"Where words leave off, music begins." ― Heinrich Heine
Words can only go so far. Symbols of the heart's deeper language, words will stop short of actually conveying full reality. They are the mirror, or the possibility, not the essence. This is important in understanding arts-assisted recovery from chemical dependency.
When Neil Young wrote that every junkie is like a setting sun, the connection between music and his life's experience took a profound movement from mere words to deeper heart truth. In two seconds we get the sense that Young has been in close connection with addiction. And he's been burned. He was able to express pain alongside learned callousness. In a near-sardonic vocal peal of regret and detachment, he writes it all off. Art meeting life. Or maybe … Rock meeting life.
Music for Recovery
Rock to Recovery is musical therapy group based in Huntington Beach. But this is not your typical music therapy. A little less controlled, a little more, gritty; a little less safe, a little more real. A little more Rock 'n' Roll. They walk into a room filled with people who have come to the edge of destruction, look around, and say, "Let's write a song about it." The results are spiritual and physical—emotional and intellectual. But more than that, it's beyond words to explain—you have to sing them to understand.
Rock to Recovery's Brandon Parkhurst with  Ocean Ranch Recovery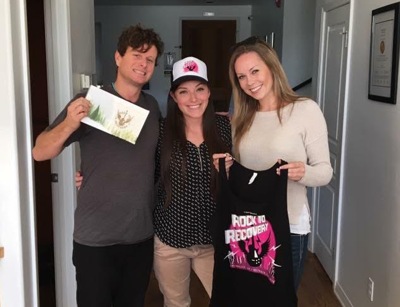 Founder Wesley Geer was a professional musician for over 20 years with a distinguishing highlight as the touring guitarist for the acclaimed nu metal outfit, Korn. Before that, he was a founding member, guitarist, songwriter, and producer for the band Hed PE. After eight years touring the world and living the classic Rock lifestyle including drug and alcohol abuse, Geer made a break. He found himself in rehab getting clean where a new understanding of the power of music came to him along with a new mission in life. "… it was when I was in treatment that I realized how much music could help me get through those tough emotions that run so rampant, especially in the early days," says Geer on the website. "Being totally sober and dealing with the bottom I had hit—strumming the guitar was the only thing that would bring me peace."
Something Missing
During that time Geer noticed the lack of music treatment that dealt with some of the deeper gut-wrenching issues. And he knew firsthand what that kind of approach could do. So he started Rock to Recovery.
Geer and his team of professional musicians, all of who are recovering addicts themselves, get together with a group of people in addiction treatment and form a makeshift band. The clients write the words and have a say in the musical direction. By the end of the session, a song is written straight from the experience of those in the room and recorded live. Listening to the music you will hear a place for venting—anger and disillusionment are common. But it's not nihilistic. The music has a point and a hope. And that is where the healing can be found, not just for those in the session, but for anyone who hears.
Music Makes a Difference
Undergirding the whole experience, some deeper lessons are being conveyed. Stuff like learning to have clean and sober fun, connecting to a group, quieting the mind, raising self-esteem, manage stress, and so forth. But really, it's rock. And it's the belief that music can save the soul as well as teach you how to dance real slow. It's beyond words to describe, and it is changing lives, one song at a time.
It seems that the guys from Rock to Recovery have seen the needle and the damage done. But when they walk in a room of honest people brave enough to reach out for help, with the guts to make a difference in their own lives, they don't see setting suns. They see artists. And for many, it becomes a self-fulfilling prophecy of art and recovery and lasting change.
Here are a couple of our favorite songs that have come straight from the program:
Get Help
Do you want to know more about what happens in a recovery program? Here is a good place to start: "A Newcomer's Guide to Recovery Programs."
If you or a loved one are in need to detox services that are proven to work, call SoCal Detox toll-free today and make your recovery a reality: 888-590-0777.