Last week Google announced some good news for people looking for help with their substance use disorder (drug or alcohol addiction): Google will stop selling ads that could put them at risk.
Do No Harm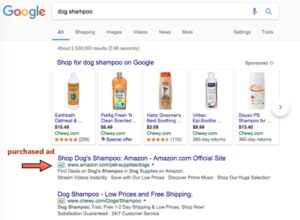 You might notice that when you search for pretty much anything on Google, the top results arepaid ad placements. This is Google's business. For example, see the screen shot to the right: when you search for "dog shampoo" the top hits are ads. Bought and paid for.
Until now, these top spots in search results for addiction treatment have also been advertising spaces. However, the advantages taken and duplicity available in advertising like this, where addiction is concerned, can actually threaten lives. So Google has decided to curb the efforts by putting a stop to it.
When phrases such as "drug rehab" or "addiction treatment center" or "rehab near me" are searched, there will be no paid listings. This doesn't completely solve the problem, but the action and recognition of this issue by one of the most influential corporations in existence is a massive step.
Google's ad policy states that they "want to help keep people safe both online and offline, so [they] don't allow the promotion of some products or services that cause damage, harm, or injury." Further, they state that they intend "to protect users from harmful or deceitful practices." It can be assumed these were the values that directed the move.
Keeping Safe
This is good news. At SoCal Detox, we are familiar with some of the sub-standard ethics in our industry and saddened by the ramifications. Reminders like this embolden us to remain focused on quality and ethical behavior in an environment that desperately needs it.
Here is an article by the New York Times going into further detail on the decision by Google.
For the time being, the addiction crisis is soaring. And here are a few things you can count on from SoCal Detox.
1. We are an actual facility.
This was one of the issues Google found with the ads being placed under certain searches. The people purchasing the ads offering help to addicts were marketing and referral companies rather than addiction treatment centers. This meant that someone looking for help getting free from addiction, in their moment of deepest need, were calling marketing firms that would give their names to the treatment centers that paid them. Which is why it is so important that  
2. When you call us you will talk to us.
The treatment of a person with a substance use disorder is unique to them. There is no one-size-fits-all recovery program. This means it is unethical to simply take a call and send a person to a treatment center without an actual assessment by the treatment center. At SoCal Detox, when you call us, you talk to us. You will be in direct contact with one of our addiction specialists who will do an initial assessment before any type of treatment is considered. With that in mind …
3. If we are not the right fit for you, we will help you find the right placement.
Searching for addiction treatment is a vulnerable and confusing task—the number of rehabs, the different kinds of programs, the many stages of recovery, the costs involved, the language used. For someone just stepping into this world looking for help, it is beyond overwhelming. That said, we know the options out there. We know what treatments will be most effective for certain needs.
When a person calls us for help, that is exactly what they are going to get. We have gone to great lengths to partner with the highest quality programs available offering everything in the full continuum of care. These are trusted centers that we know keep the client's needs as their highest priority. And if your assessment shows that you will have a better recovery possibility with one of our partners, that is where we will send you.
4. We care.
That might sound a little obvious, but with everything on the Internet and in addiction treatment, we believe this actually makes a difference. When you come to SoCal Detox, you will find a team, a staff, a collective approach that is based on compassion for the individual and a true desire to save the life of the person who has trusted us with their care. It is a high call. It is something we hold sacred and will come through in the interactions you have with us.
Need Help?
If you are looking for help for yourself or a loved one in your life, please call us today. When you do, you will talk to someone from our team that can compassionately walk with you through the confusion and the noise and make sure you get the help you need. Call: 888-590-0777.